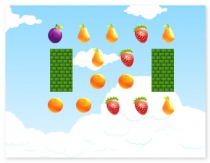 Fruit farm shooting sunny fresh fruit ballistic game
New sweet and fresh ballistic game. Follow us to an Farm of your Dream. here you can eat sweet fruits, but before you can do this, you must collect all fruits by shooting. Use big cannon and powerful axes to do this job. Try ...

start play!

Critter Zapper free Zuma game
Save kingdom of happy Bug , don't let the evil bugs on the march go to the end of garden road and take off the headquarters. Match three or more bugs with the same color backs....

start play!