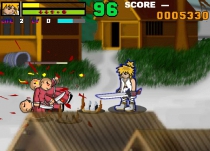 Anime hero fighter fighting retro game arcade adventure
You are an anime hero, you are brave , you are cool. But the evil guys on evil streets don't want let you go. You have only one way - to fight with all enemies. Just show him whose knife bigger and powerful....

start play!

The King of Fighters vs. DNF street fighter mortal kombat anime stylized game
NOTE: big sized game - 19 megabyte. Please wait until the game will be loaded. Arcade street fight RPG game. Anime style. You can play alone or with your friend. Game-play was divided over the town (where you talk with citize...

start play!

9 Dragons Charm Zuma Game
Three same color ball game. The game stylized as a zuma. Martial arts theme. You are like an Mortal Kombat fighter. But you'll be fought with color-balls. You could win bonuses (like a "easy aim" tool or "...

start play!
Game Rating:
5.00
/
5
(100.00%)
1
vote
Need something special? Search on the site 1ONLINEPLAY.com: