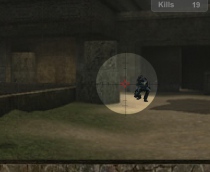 Flash Strike first person shooter online game like Counter Strike
Shoot, shoot, shoot till them die. Terrorist lose , Contras win! New clone of a first person shooter game that we all know as Counter Strike. Play online today. Don't forget reload your weapons. It's very important ...

start play!

Mercenary Wars 2 online shooter anti terrorism force commando
Shoot in game and never in real life. Fight for life. Perfect online shooter: Mercenary Wars part two. Game from "Counter strike" series. Remember it? You are against angry, sick terrorists. Walking through all of t...

start play!
Game Rating:
5.00
/
5
(100.00%)
1
vote
Need something special? Search on the site 1ONLINEPLAY.com: