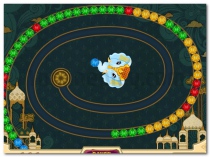 Zuma Mystic India Pop 3 match game
From India with Love. New brightest Zuma-like game: Mystic India Pop. Do you remember the game rules? Goal of the game: collect three same colored balls. If you collect more than three balls - you will get bonuses. Want more ...

start play!

Flash Chess 3 Online sport logical strategy board game
Good realization of online Chess, strategy board game. Some features: Game saving; History - list of all moves in game; Undo Move; Three levels of the difficulty. Games file size: 261 kilobytes....

start play!