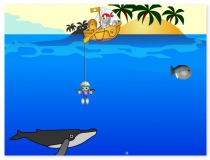 Glug glug get treasure from the bottom of the sea
You a brave pirate , you have a boat and faithful companion. Catch treasure in the deep blue sea. Avoid big and small fish , because it may to kill you. At the bottom of the sea you can see boxes with the gold and a coins. Ta...

start play!

Montezuma Treasures new puzzle game
Interesting game based on historical events. New version of the popular puzzle game about treasure of Aztec's king Moctezuma. Do you know about Aztecs? It's powerful people who dominated in central America in 14-16 ...

start play!

Treasure Hunt adventure arcade game
If you want marry princess you must bring treasure to her father - old king Modsognir. Hit the rock and find some rubies and diamonds. Choose your difficulty (Normal available) and play....

start play!
Game Rating:
5.00
/
5
(100.00%)
1
vote
Need something special? Search on the site 1ONLINEPLAY.com: