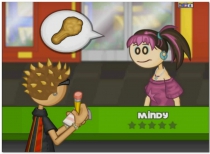 Papas Wingeria cooking game open and manage your restaurant
Papa Louis, born in the Italy and has long been familiar to all lovers of cooking. And no wonder! After all, Dad has opened a lot of restaurants, cafes and cafes. All types of fast food store works with Papa! But... And then ...

start play!

Papa&039s Burgeria simulator emulator
Real business emulator. You will be a king of fast-food and earn a lot of money. Feed the world. ook hamburgers and cheeseburgers. If you want to learn how to play in this game, just follow screen-instructions....

start play!
Game Rating:
5.00
/
5
(100.00%)
1
vote
Need something special? Search on the site 1ONLINEPLAY.com: