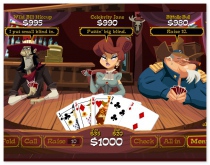 Good Old Poker online card game wild west style poker
Good Old Poker - online poker game, wild wild west theme. Funny card game - really time killer. You can play in this poker game for hours and forget about everything. Simple rules - everyone who already played in poker with y...

start play!

Texas Holdem Poker Heads Up card game
Easy way to up your poker craft without any risks. Play in poker against computer opponents, fold, bet, call, bet again and win a lot of virtual money. You can raise bet and win more. Win or lose - try your luck....

start play!