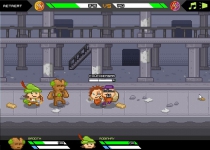 Awesome Happy Heroes strategy game manage your own superhero
It's a story about good and bad people. Little town was to attacked by criminal anti-heroes. No one can't help to citizen of this town. But in one day all changed. It's a story about Happy Heroes . They go to s...

start play!

Mine Blocks Minecraft like game Explore Mine Build Fight Eat and Survive
You love minecraft , isn't it? But, how about play in your favorite game minecraft in 2D? Really Funny game! First you need to build your own world. Now you can mine something good in this world. Don't forget about ...

start play!

Train Traffic Control logical strategy online game
You can be an Station Master. Manage train traffic. Don't let an accident with train crash. You must to prevent two trains on the same rail track. Stop the Train on station to earn some money. First station it's New...

start play!
Game Rating:
5.00
/
5
(100.00%)
1
vote
Need something special? Search on the site 1ONLINEPLAY.com: