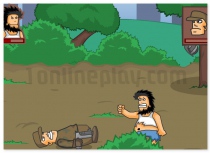 Hobo 4 Total War fight against all street fighting game
Fourth series of the game called Hobo. Now - it's a war. All against all in this total war. And Hobo , well-known Hobo , he is back in business today. Hobo will fight against all. Don't need to anger him right now. ...

start play!

Hobo Prison Brawl fighting arcade rpg game
Prison escape as an not ordinary Hobo. Fight for your right (for freedom). Use what mother nature gave you: fist, legs, snot, crap, piss etc. You can use extra power - take a chair or trash and throw it in your enemy....

start play!
Game Rating:
5.00
/
5
(100.00%)
1
vote
Need something special? Search on the site 1ONLINEPLAY.com: