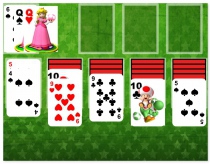 Super Mario Solitaire card game like Free Cell game
Hey, hey , hey - it's a Mario again. Most famous game character. This is a game for those who loves retro games and solitaire card games loves too. So, let's start play the cards game. The game rules are the same as...

start play!

Golf Solitaire Card Game play online free
Yet another solitaire game. Now it's a Golf Solitaire game. You can play in this game with mouse only. Click on card to put it to the deck of cards. Goal of this game find and connect adjacent cards. Follow this system: ...

start play!

Speed Solitaire time trial cards game logical puzzle
Training for your brain and reaction. This solitaire you must finish in limited time. It's game like a defuse the bomb. Harry up and put in order the card as fast as you can. Red 9 go to the black 10, black queen go to t...

start play!
Game Rating:
5.00
/
5
(100.00%)
1
vote
Need something special? Search on the site 1ONLINEPLAY.com: